Arctic Stud Electrodes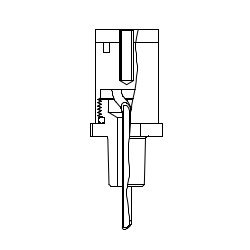 The Arctic system is a compact stud-and-nut electrode with internal water cooling to extend electrode life. These Stud Welding electrodes have an insulated bushing with a standard depth of 1".
These electrodes have a variety of mounting options: they are available with 4RW and 5RW tapers for tapered shanks and holders, built in platen mount for table fixturing and shank mount for cylinder mounted applications.
| Part | Description | Face Refractory Material | Base RWMA Material Type | Engagement to Holder | Overall Body Length | Weld Face Diameter | Stud Hole Depth | For Stud Diameter | Refractory Metal Thickness | Unit of Measure |
| --- | --- | --- | --- | --- | --- | --- | --- | --- | --- | --- |
| 175-1221-5 | ARTIC-122-5RW SHANK | RWMA Class 11 - 10W | RWMA Class 2 - C18200 | 5RW | 3.00000 | 1.25 | 1.000 | #12 | 0.250 | IN |
| 175-1693-5 | ARTIC-169-5RW SHANK | RWMA Class 11 - 10W | RWMA Class 2 - C18200 | 5RW | 3.00000 | 1.5 | 1.000 | 11/16 | 0.250 | IN |
| 175-1633-5 | ARTIC-163-5RW SHANK | RWMA Class 11 - 10W | RWMA Class 2 - C18200 | 5RW | 3.00000 | 1.5 | 1.000 | 5/8 | 0.250 | IN |
| 175-1503-5 | ARTIC-150-5RW SHANK | RWMA Class 11 - 10W | RWMA Class 2 - C18200 | 5RW | 3.00000 | 1.5 | 1.000 | 1/2 | 0.250 | IN |
| 175-1442-5 | ARTIC-144-5RW SHANK | RWMA Class 11 - 10W | RWMA Class 2 - C18200 | 5RW | 3.00000 | 1.25 | 1.000 | 7/16 | 0.250 | IN |
| 175-1382-5 | ARTIC-138-5RW SHANK | RWMA Class 11 - 10W | RWMA Class 2 - C18200 | 5RW | 3.00000 | 1.25 | 1.000 | 3/8 | 0.250 | IN |
| 175-1312-5 | ARTIC-131-5RW SHANK | RWMA Class 11 - 10W | RWMA Class 2 - C18200 | 5RW | 3.00000 | 1.25 | 1.000 | 5/16 (8mm) | 0.250 | IN |
| 175-1312-4 | ARTIC-131-4RW SHANK | RWMA Class 11 - 10W | RWMA Class 2 - C18200 | 4RW | 3.00000 | 1.25 | 1.000 | 5/16 (8mm) | 0.250 | IN |
| 175-1252-5 | ARTIC-125-5RW SHANK | RWMA Class 11 - 10W | RWMA Class 2 - C18200 | 5RW | 3.00000 | 1.25 | 1.000 | 1/4 | 0.250 | IN |
| 175-1252-4 | ARTIC-125-4RW SHANK | RWMA Class 11 - 10W | RWMA Class 2 - C18200 | 4RW | 3.00000 | 1.25 | 1.000 | 1/4 | 0.250 | IN |
| 175-1061-5 | ARTIC-106-5RW SHANK | RWMA Class 11 - 10W | RWMA Class 2 - C18200 | 5RW | 3.00000 | 1.25 | 1.000 | 6 mm | 0.250 | IN |
| 175-1221-4 | ARTIC-122-4RW SHANK | RWMA Class 11 - 10W | RWMA Class 2 - C18200 | 4RW | 3.00000 | 1.25 | 1.000 | #12 | 0.250 | IN |
| 175-1191-5 | ARTIC-119-5RW SHANK | RWMA Class 11 - 10W | RWMA Class 2 - C18200 | 5RW | 3.00000 | 1.25 | 1.000 | #10 | 0.250 | IN |
| 175-1161-5 | ARTIC-116-5RW SHANK | RWMA Class 11 - 10W | RWMA Class 2 - C18200 | 5RW | 3.00000 | 1.25 | 1.000 | #8 | 0.250 | IN |
| 175-1151-5 | ARTIC-115-5RW SHANK | RWMA Class 11 - 10W | RWMA Class 2 - C18200 | 5RW | 3.00000 | 1.25 | 1.000 | #6 | 0.250 | IN |
| 175-1123-5 | ARTIC-112-5RW SHANK | RWMA Class 11 - 10W | RWMA Class 2 - C18200 | 5RW | 3.00000 | 1.5 | 1.000 | 12 mm | 0.250 | IN |
| 175-1102-5 | ARTIC-110-5RW SHANK | RWMA Class 11 - 10W | RWMA Class 2 - C18200 | 5RW | 3.00000 | 1.25 | 1.000 | 10 mm | 0.250 | IN |
| 175-1092-5 | ARTIC-109-5RW SHANK | RWMA Class 11 - 10W | RWMA Class 2 - C18200 | 5RW | 3.00000 | 1.25 | 1.000 | 9 mm | 0.250 | IN |
| 175-1071-5 | ARTIC-107-5RW SHANK | RWMA Class 11 - 10W | RWMA Class 2 - C18200 | 5RW | 3.00000 | 1.25 | 1.000 | 7 mm | 0.250 | IN |