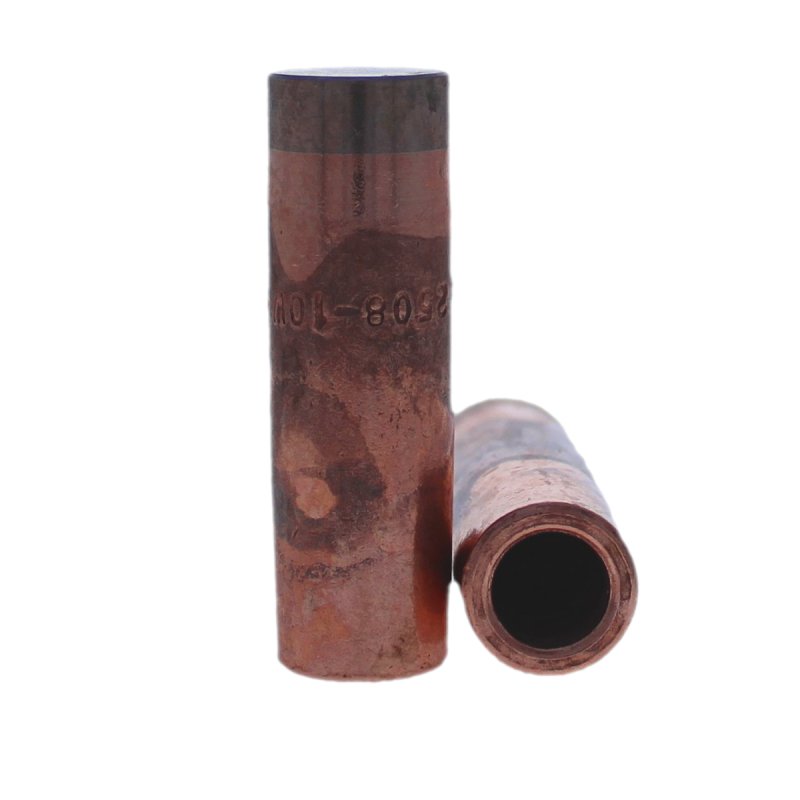 C-2508-10W FACED TIP
Part #: 185-1250
Refractory metal tips are designed to withstand greater heat and pressure at the expense of some conductivity. They are used to spot weld high resistance base metals or to achieve desired heat balance when welding dissimilar materials, or for resistance brazing.
RMWA Class 2 (C18200) material - a copper, chromium material recommend for high production operations spot welding hot or cold rolled steels, galvanized and coated materials.
The overall length is 2.000 IN
The outside diameter is 0.625 IN
The part mounts via a 5RW standard taper which is suitable for weld forces ranging between 800 to 1500 pounds of force.
The C nose of Flat face tip is frequently used as a backup electrode for projection welding, cosmetic welds, or to control heat balancing of the weld by controlling the current density.
The weld face is 0.625 IN
A refractory metal face made from RWMA Class 11 (75% tungsten, 25% copper) (ASTM 702 C1D) is brazed onto the base material. This face is typically used for welding at higher pressure and heat common with projection welding.
---
Specifications
| | |
| --- | --- |
| Face Refractory Material | RWMA Class 11 - 10W |
| Base RWMA Material Type | RWMA Class 2 - C18200 |
| RWMA Taper | 5RW |
| Nose Type | C |
| Overall Length | 2.00000 |
| Outer Diameter | 0.62500 |
| Welding Face Dia. | 0.625 |
| Refractory Metal Thickness | 0.250 |
| Unit of Measure | IN |
Notice for California Residents

WARNING: Cancer and Reproductive Harm www.p65warnings.ca.gov