HD Non-Piloted-Nut Electrodes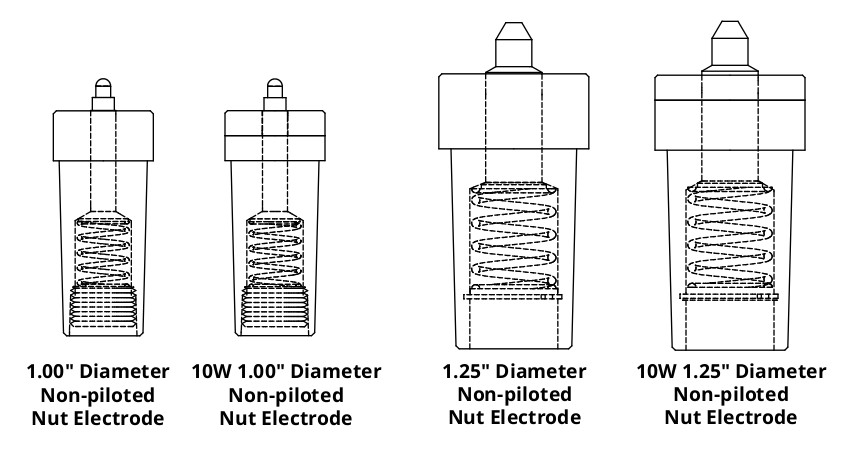 Tuffaloy Heavy Duty Non-Piloted-Nut Electrodes have a spring-loaded pin so they can't interfere with the contacting of nut and sheet under welding pressure. The parts have an optional 10W weld face to improve the electrode life.
The Heavy Duty Non-Piloted Electrodes are designed for use with Tuffaloy's Heavy Duty Stud-Nut Holders which are suitable for high forces used for projection welding.
The parts have a large diameter taper available in two sizes:
HD Size 1 with a 1.00 IN diameter weld face
HD Size 2 with a 1.50 IN diameter weld face
| Part | Description | Face Refractory Material | RWMA Material Type | PM Style Engagement to Holder | Body Length | Weld Face Diameter | Pin Diameter | For Nut Size | Refractory Metal Thickness | Unit of Measure | Spring |
| --- | --- | --- | --- | --- | --- | --- | --- | --- | --- | --- | --- |
| 175-7091 | 709 (9mm) NON-PILOTED-NUT ELECT. | | RWMA Class 2 - C18200 | HD Size 1 | 2.25000 | 1 | 0.3850 | 9 mm | | IN | Yes |
| 175-4791 | 479 NON-PILOTED-NUT ELECT. | | RWMA Class 2 - C18200 | HD Size 2 | 2.75000 | 1.5 | 0.6870 | 9/16 | | IN | Yes |
| 175-4791-10W | 479-10W NON-PILOTED-NUT ELECT. | RWMA Class 11 - 10W | RWMA Class 2 - C18200 | HD Size 2 | 2.75000 | 1.5 | 0.6870 | 9/16 | 0.250 | IN | Yes |
| 175-4801 | 480 NON-PILOTED-NUT ELECT. | | RWMA Class 2 - C18200 | HD Size 2 | 2.75000 | 1.5 | 0.7500 | 5/8 | | IN | Yes |
| 175-4801-10W | 480-10W NON-PILOTED-NUT ELECT. | RWMA Class 11 - 10W | RWMA Class 2 - C18200 | HD Size 2 | 2.75000 | 1.5 | 0.7500 | 5/8 | 0.250 | IN | Yes |
| 175-7061 | 706 (6mm) NON-PILOTED-NUT ELECT. | | RWMA Class 2 - C18200 | HD Size 1 | 2.25000 | 1 | 0.2610 | 6 mm | | IN | Yes |
| 175-7061-10W | 706-10W (6mm )NON-PILOTED-NUT ELECT. | RWMA Class 11 - 10W | RWMA Class 2 - C18200 | HD Size 1 | 2.25000 | 1 | 0.2610 | 6 mm | 0.250 | IN | Yes |
| 175-7071 | 707 (7mm) NON-PILOTED-NUT ELECT. | | RWMA Class 2 - C18200 | HD Size 1 | 2.25000 | 1 | 0.3000 | 7 mm | | IN | Yes |
| 175-7071-10W | 707-10W (7mm ) NON-PILOTED-NUT ELECT. | RWMA Class 11 - 10W | RWMA Class 2 - C18200 | HD Size 1 | 2.25000 | 1 | 0.3000 | 7 mm | 0.250 | IN | Yes |
| 175-4781-10W | 478-10W NON-PILOTED-NUT ELECT. | RWMA Class 11 - 10W | RWMA Class 2 - C18200 | HD Size 2 | 2.75000 | 1.5 | 0.6250 | 1/2 | 0.250 | IN | Yes |
| 175-7091-10W | 709-10W (9mm) NON-PILOTED-NUT ELECT. | RWMA Class 11 - 10W | RWMA Class 2 - C18200 | HD Size 1 | 2.25000 | 1 | 0.3850 | 9 mm | 0.250 | IN | Yes |
| 175-7101 | 710 (10mm) NON-PILOT-NUT ELECT | | RWMA Class 2 - C18200 | HD Size 1 | 2.25000 | 1 | 0.4250 | 10 mm | | IN | Yes |
| 175-7101-10W | 710-10W (10mm) NON-PILOTED-NUT ELECT. | RWMA Class 11 - 10W | RWMA Class 2 - C18200 | HD Size 1 | 2.25000 | 1 | 0.4250 | 10 mm | 0.250 | IN | Yes |
| 175-7102 | 710-2 (10mm) NON-PILOTED-NUT ELECT. | | RWMA Class 2 - C18200 | HD Size 2 | 2.25000 | 1 | 0.4530 | 10 mm | | IN | Yes |
| 175-7102-10W | 710-2-10W (10mm) NON-PILOTED-NUT ELECT. | RWMA Class 11 - 10W | RWMA Class 2 - C18200 | HD Size 2 | 2.75000 | 1.5 | 0.4530 | 10 mm | 0.250 | IN | Yes |
| 175-7122 | 712-2 (12mm) NON-PILOTED-NUT ELECT. | | RWMA Class 2 - C18200 | HD Size 2 | 2.75000 | 1.5 | 0.5950 | 12 mm | | IN | Yes |
| 175-7122-10W | 712-2-10W (12mm) NON-PILOTED-NUT ELECT. | RWMA Class 11 - 10W | RWMA Class 2 - C18200 | HD Size 2 | 2.75000 | 1.5 | 0.5950 | 12 mm | 0.250 | IN | Yes |
| 175-4251-10W | 425-10W NON-PILOTED-NUT ELECT. | RWMA Class 11 - 10W | RWMA Class 2 - C18200 | HD Size 1 | 2.25000 | 1 | 0.3450 | 5/16 (8mm) | 0.250 | IN | Yes |
| 175-4211-10W | 421-10W NON-PILOTED-NUT ELECT. | RWMA Class 11 - 10W | RWMA Class 2 - C18200 | HD Size 1 | 2.25000 | 1 | 0.1800 | #8 | 0.250 | IN | Yes |
| 175-4221 | 422 NON-PILOTED-NUT ELECT. | | RWMA Class 2 - C18200 | HD Size 1 | 2.25000 | 1 | 0.2150 | #10 | | IN | Yes |
| 175-4221-10W | 422-10W NON-PILOTED-NUT ELECT. | RWMA Class 11 - 10W | RWMA Class 2 - C18200 | HD Size 1 | 2.25000 | 1 | 0.2150 | #10 | 0.250 | IN | Yes |
| 175-4231 | 423 NON-PILOTED-NUT ELECT. | | RWMA Class 2 - C18200 | HD Size 1 | 2.25000 | 1 | 0.2400 | #12 | | IN | Yes |
| 175-4231-10W | 423-10W NON-PILOTED-NUT ELECT. | RWMA Class 11 - 10W | RWMA Class 2 - C18200 | HD Size 1 | 2.25000 | 1 | 0.2400 | #12 | 0.250 | IN | Yes |
| 175-4241 | 424 NON-PILOTED-NUT ELECT. | | RWMA Class 2 - C18200 | HD Size 1 | 2.25000 | 1 | 0.2750 | 1/4 | | IN | Yes |
| 175-4241-10W | 424-10W NON-PILOTED-NUT ELECT. | RWMA Class 11 - 10W | RWMA Class 2 - C18200 | HD Size 1 | 2.25000 | 1 | 0.2750 | 1/4 | 0.250 | IN | Yes |
| 175-4251 | 425 NON-PILOTED-NUT ELECT. | | RWMA Class 2 - C18200 | HD Size 1 | 2.25000 | 1 | 0.3450 | 5/16 (8mm) | | IN | Yes |
| 175-4211 | 421 NON-PILOTED-NUT ELECT. | | RWMA Class 2 - C18200 | HD Size 1 | 2.25000 | 1 | 0.1800 | #8 | | IN | Yes |
| 175-4261 | 426 NON-PILOTED-NUT ELECT. | | RWMA Class 2 - C18200 | HD Size 1 | 2.25000 | 1 | 0.4050 | 3/8 | | IN | Yes |
| 175-4261-10W | 426-10W NON-PILOTED-NUT ELECT. | RWMA Class 11 - 10W | RWMA Class 2 - C18200 | HD Size 1 | 2.25000 | 1 | 0.4050 | 3/8 | 0.250 | IN | Yes |
| 175-4761 | 476 NON-PILOTED-NUT ELECT. | | RWMA Class 2 - C18200 | HD Size 2 | 2.75000 | 1.5 | 0.4370 | 3/8 | | IN | Yes |
| 175-4761-10W | 476-10W NON-PILOTED-NUT ELECT. | RWMA Class 11 - 10W | RWMA Class 2 - C18200 | HD Size 2 | 2.75000 | 1.5 | 0.4370 | 3/8 | 0.250 | IN | Yes |
| 175-4771 | 477 NON-PILOTED-NUT ELECT. | | RWMA Class 2 - C18200 | HD Size 2 | 2.75000 | 1.5 | 0.5620 | 7/16 | | IN | Yes |
| 175-4771-10W | 477-10W NON-PILOTED-NUT ELECT. | RWMA Class 11 - 10W | RWMA Class 2 - C18200 | HD Size 2 | 2.75000 | 1.5 | 0.5620 | 7/16 | 0.250 | IN | Yes |
| 175-4781 | 478 NON-PILOTED-NUT ELECT. | | RWMA Class 2 - C18200 | HD Size 2 | 2.75000 | 1.5 | 0.6250 | 1/2 | | IN | Yes |