Socket Type Paddle Holder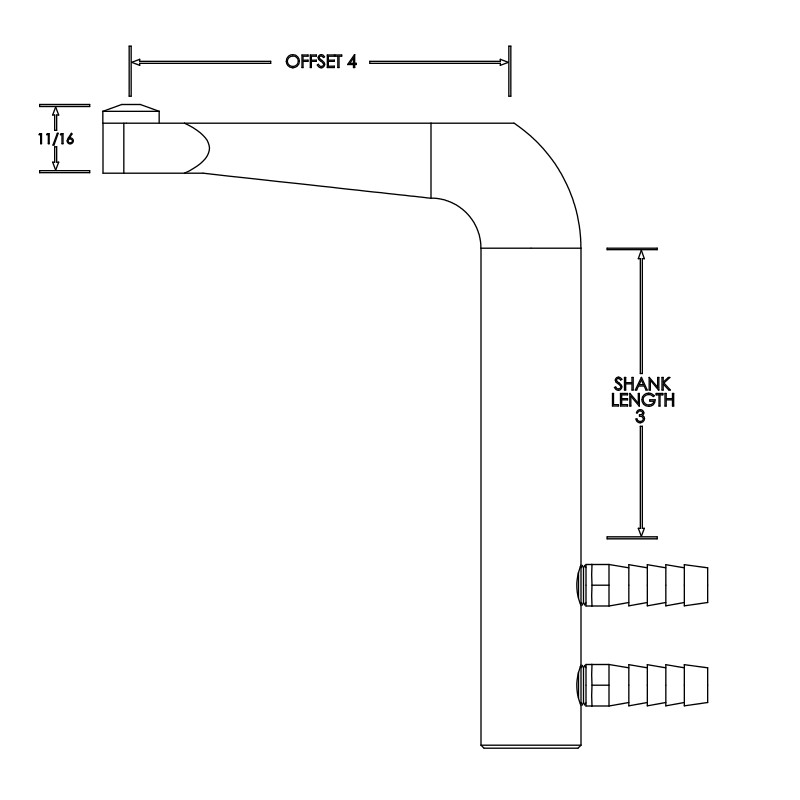 This holder is for welding in very restricted areas. It provides a very low head height and a four-inch offset. Each holder comes complete with a socket-type tip (SE-3101) and holding screw. The tip may be inserted in either side of the paddle. Holders are of Class 2 alloy. Tips are available in Class 1, Class 2, or Class 3 alloy.
The holder is designed for use in Rocker Arm or Pedestal Type Welders.
The holder is available in 4 different shank diameters.
| Part | Description | RWMA Material | Socket Tip Engagement | Overall Length | Shank Diameter | Offset | Head Height with Socket Tip | Shank Length | UOM |
| --- | --- | --- | --- | --- | --- | --- | --- | --- | --- |
| 345-0750 | P-750-490 PADDLE HOLDER | RWMA Class 2 | 10 - 32 Tap Hold Screw | 6.75000 | 0.75000 | 4.0000 | 0.6875 | 3.000 | IN |
| 345-0870 | P-870-490 PADDLE HOLDER | RWMA Class 2 | 10 - 32 Tap Hold Screw | 6.75000 | 0.87500 | 4.0000 | 0.6875 | 3.000 | IN |
| 345-1000 | P-100-490 PADDLE HOLDER | RWMA Class 2 | 10 - 32 Tap Hold Screw | 6.75000 | 1.00000 | 4.0000 | 0.6875 | 3.000 | IN |
| 345-1200 | P-120-490 PADDLE HOLDER | RWMA Class 2 | 10 - 32 Tap Hold Screw | 6.75000 | 1.25000 | 4.0000 | 0.6875 | 3.000 | IN |
| 345-1500 | P-150-490 PADDLE HOLDER | RWMA Class 2 | 10 - 32 Tap Hold Screw | 6.75000 | 1.50000 | 4.0000 | 0.6875 | 3.000 | IN |