Arctic Non-Pilot-Nut Electrode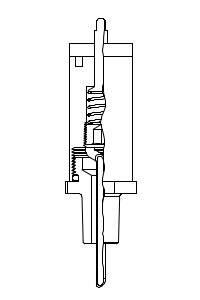 The Arctic system is a compact stud-and-nut electrode with internal water cooling to extend electrode life. The Actic Non-Piloted-Nut electrode comes complete with a spring loaded insulated pin used to position the nut in place for welding.
These electrodes have a variety of mounting options: they are available with 4RW and 5RW tapers for tapered shanks and holders, built in platen mount for table fixturing and shank mount for cylinder mounted applications.
| Part | Description | Face Refractory Material | Base RWMA Material Type | Engagement to Holder | Body Length | Weld Face Diameter | Pin Diameter | For Nut Size | Refractory Metal Thickness | Unit of Measure | Spring |
| --- | --- | --- | --- | --- | --- | --- | --- | --- | --- | --- | --- |
| 175-2192-5 | ARTIC-NON-PILOTED-219-5RW | RWMA Class 11 - 10W | RWMA Class 2 - C18200 | 5RW | 4.00000 | 1.25 | 0.2150 | #10 | 0.250 | IN | Yes |
| 175-2563-6 | ARTIC-NON-PILOTED-256-6RW SHANK | RWMA Class 11 - 10W | RWMA Class 2 - C18200 | 5RW | 4.00000 | 1.5 | 0.6870 | 9/16 | 0.250 | IN | Yes |
| 175-2503-5 | ARTIC-NON-PILOTED-250-5RW SHANK | RWMA Class 11 - 10W | RWMA Class 2 - C18200 | 5RW | 4.00000 | 1.5 | 0.6250 | 1/2 | 0.250 | IN | Yes |
| 175-2443-6 | ARTIC-NON-PILOTED-244-6RW SHANK | RWMA Class 11 - 10W | RWMA Class 2 - C18200 | 6RW | 4.00000 | 1.5 | 0.5620 | 7/16 | 0.250 | IN | Yes |
| 175-2443-5 | ARTIC-NON-PILOTED-244-5RW SHANK | RWMA Class 11 - 10W | RWMA Class 2 - C18200 | 5RW | 4.00000 | 1.5 | 0.5620 | 7/16 | 0.250 | IN | Yes |
| 175-2382-5 | ARTIC-NON-PILOTED-238-5RW | RWMA Class 11 - 10W | RWMA Class 2 - C18200 | 5RW | 4.00000 | 1.25 | 0.4050 | 3/8 | 0.250 | IN | Yes |
| 175-2312-6 | ARTIC-NON-PILOTED-231-6RW | RWMA Class 11 - 10W | RWMA Class 2 - C18200 | 6RW | 4.00000 | 1.25 | 0.3450 | 5/16 (8mm) | 0.250 | IN | Yes |
| 175-2312-5 | ARTIC-NON-PILOTED-231-5RW | RWMA Class 11 - 10W | RWMA Class 2 - C18200 | 5RW | 4.00000 | 1.25 | 0.3450 | 5/16 (8mm) | 0.250 | IN | Yes |
| 175-2312-4 | ARTIC-NON-PILOTED-231-4RW | RWMA Class 11 - 10W | RWMA Class 2 - C18200 | 4RW | 4.00000 | 1.25 | 0.3450 | 5/16 (8mm) | 0.250 | IN | Yes |
| 175-2252-5 | ARTIC-NON-PILOTED-225-5RW | RWMA Class 11 - 10W | RWMA Class 2 - C18200 | 5RW | 4.00000 | 1.25 | 0.2750 | 1/4 | 0.250 | IN | Yes |
| 175-2222-5 | ARTIC-NON-PILOTED-222-5RW | RWMA Class 11 - 10W | RWMA Class 2 - C18200 | 5RW | 4.00000 | 1.25 | 0.2400 | #12 | 0.250 | IN | Yes |
| 175-2062-4 | ARTIC-NON-PILOTED-206-4RW | RWMA Class 11 - 10W | RWMA Class 2 - C18200 | 4RW | 4.00000 | 1.25 | 0.2610 | 6 mm | 0.250 | IN | Yes |
| 175-2162-5 | ARTIC-NON-PILOTED-216-5RW | RWMA Class 11 - 10W | RWMA Class 2 - C18200 | 5RW | 4.00000 | 1.25 | 0.1800 | #8 | 0.250 | IN | Yes |
| 175-2162-4 | ARTIC-NON-PILOTED-216-4RW | RWMA Class 11 - 10W | RWMA Class 2 - C18200 | 4RW | 4.00000 | 1.25 | 0.1800 | #8 | 0.250 | IN | Yes |
| 175-2123-5 | ARTIC-NON-PILOTED-212-5RW SHANK | RWMA Class 11 - 10W | RWMA Class 2 - C18200 | 5RW | 4.00000 | 1.5 | 0.5950 | 12 mm | 0.250 | IN | Yes |
| 175-2102-6 | ARTIC-NON-PILOTED-210-6RW | RWMA Class 11 - 10W | RWMA Class 2 - C18200 | 6RW | 4.00000 | 1.25 | 0.4250 | 10 mm | 0.250 | IN | Yes |
| 175-2102-5 | ARTIC-NON-PILOTED-210-5RW | RWMA Class 11 - 10W | RWMA Class 2 - C18200 | 5RW | 4.00000 | 1.25 | 0.4250 | 10 mm | 0.250 | IN | Yes |
| 175-2092-5 | ARTIC-NON-PILOTED-209-5RW | RWMA Class 11 - 10W | RWMA Class 2 - C18200 | 5RW | 4.00000 | 1.25 | 0.3850 | 9 mm | 0.250 | IN | Yes |
| 175-2072-5 | ARTIC-NON-PILOTED-207-5RW | RWMA Class 11 - 10W | RWMA Class 2 - C18200 | 5RW | 4.00000 | 1.25 | 0.3000 | 7 mm | 0.250 | IN | Yes |
| 175-2062-6 | ARTIC-NON-PILOTED-206-6RW | RWMA Class 11 - 10W | RWMA Class 2 - C18200 | 6RW | 4.00000 | 1.25 | 0.2610 | 6 mm | 0.250 | IN | Yes |
| 175-2062-5 | ARTIC-NON-PILOTED-206-5RW | RWMA Class 11 - 10W | RWMA Class 2 - C18200 | 5RW | 4.00000 | 1.25 | 0.2610 | 6 mm | 0.250 | IN | Yes |