Metric Upper Electrode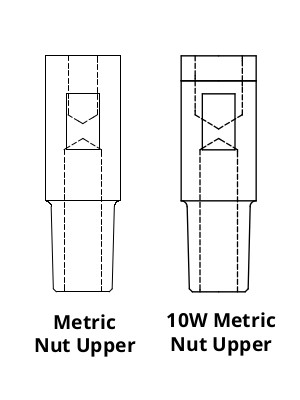 Metric nut Upper electrodes are made from RWMA class 2 material and have an optional 10W for longer life. These electrodes are designed to receive the pin of Metric Nut Welding Assemblies.
They are available in a variety of bore and faces sizes to accommodate virtually any pin size.
| Part | Description | Face Refactory Material | RWMA Material Type | Engagement to Holder | Overall Length | Weld Face Diameter | Hole Diameter | Hole Depth | Refractory Material Thickness | Unit of Measure |
| --- | --- | --- | --- | --- | --- | --- | --- | --- | --- | --- |
| 186-0101-10W | TNFD16-M5-16-3-10W 5mm UPPER ELEC. | RWMA Class 11 - 10W | RWMA Class 2 - C18200 | 5RW | 2.36000 | 0.625 | 0.19700 | 0.590 | | IN |
| 186-0104-10W | TNFD20-M10-16-3-10W 10mm UPPER ELEC. | RWMA Class 11 - 10W | RWMA Class 2 - C18200 | 5RW | 2.36000 | 0.75 | 0.39400 | 0.590 | | IN |
| 186-0103-10W | TNFD20-M8-16-3-10W 7.5mm UPPER ELEC. | RWMA Class 11 - 10W | RWMA Class 2 - C18200 | 5RW | 2.36000 | 0.75 | 0.29500 | 0.590 | | IN |
| 186-0105-10W | TNFD20-M12-16-3-10W 12mm UPPER ELEC. | RWMA Class 11 - 10W | RWMA Class 2 - C18200 | 5RW | 2.36000 | 0.75 | 0.47200 | 0.590 | 0.250 | IN |
| 186-0102-10W | TNFD20-M6-16-3-10W 6mm UPPER ELEC. | RWMA Class 11 - 10W | RWMA Class 2 - C18200 | 5RW | 2.36000 | 0.75 | 0.23600 | 0.590 | | IN |
| 186-0101 | TNFD16-M5-16-3 5mm UPPER ELEC. | | RWMA Class 2 - C18200 | 5RW | 2.36000 | 0.625 | 0.19700 | 0.590 | | IN |
| 186-0102 | TNFD20-M6-16-3 6mm UPPER ELEC. | | RWMA Class 2 - C18200 | 5RW | 2.36000 | 0.75 | 0.23600 | 0.590 | | IN |
| 186-0103 | TNFD20-M8-16-3 7.5mm UPPER ELEC. | | RWMA Class 2 - C18200 | 5RW | 2.36000 | 0.75 | 0.29500 | 0.590 | | IN |
| 186-0104 | TNFD20-M10-16-3 10mm UPPER ELEC. | | RWMA Class 2 - C18200 | 5RW | 2.36000 | 0.75 | 0.39400 | 0.590 | | IN |
| 186-0105 | TNFD20-M12-16-3 12mm UPPER ELEC. | | RWMA Class 2 - C18200 | 5RW | 2.36000 | 0.75 | 0.47200 | 0.590 | | IN |