Standard Double Bend Electrode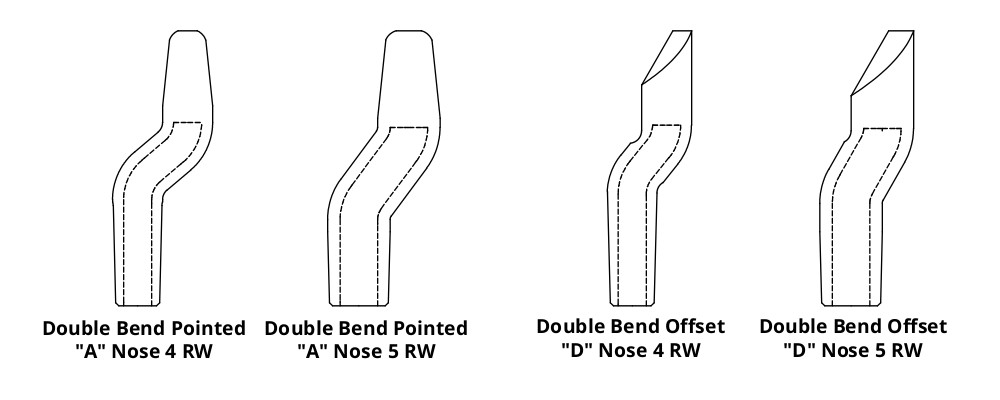 Standard Double Bend Electrodes are an economic solution to weld in a tight area or hard to reach area such as a flange or corner. This part has water cooling all the way to the nose which may enable them outlast cast or forged tips with a similar geometry.
Water tubes can be included upon request to improve cooling of the tip.
| Part | Description | RWMA Material Type | RWMA Taper | Nose Type | Overall Length | Outer Diameter | Welding Face Dia. | Offset | Water Hole Dia. | Taper to Bend Length | Bend to Nose Length | Unit of Measure |
| --- | --- | --- | --- | --- | --- | --- | --- | --- | --- | --- | --- | --- |
| 165-0100 | FA-1424-8 BENT TIP | RWMA Class 1 - C15000 | 4RW | A | 2.25000 | 0.50000 | 0.188 | 0.5000 | 0.28125 | 1.0000 | 0.8750 | IN |
| 165-0100-T | FA-1424-8-T BENT TIP | RWMA Class 1 - C15000 | 4RW | A | 2.25000 | 0.50000 | 0.188 | 0.5000 | 0.28125 | 1.0000 | 0.8750 | IN |
| 165-0160 | FA-1426-6 BENT TIP | RWMA Class 1 - C15000 | 4RW | A | 2.37500 | 0.50000 | 0.188 | 0.3750 | 0.28125 | 1.0000 | 0.8750 | IN |
| 165-0200 | FA-1426-20 BENT TIP | RWMA Class 1 - C15000 | 4RW | A | 2.37500 | 0.50000 | 0.188 | 1.2500 | 0.28125 | 0.8750 | 0.7500 | IN |
| 165-0200-T | FA-1426-20-T BENT TIP | RWMA Class 1 - C15000 | 4RW | A | 2.37500 | 0.50000 | 0.188 | 1.2500 | 0.28125 | 0.8750 | 0.7500 | IN |
| 165-0280 | FA-1428-16 BENT TIP | RWMA Class 1 - C15000 | 4RW | A | 2.50000 | 0.50000 | 0.188 | 2.5000 | 0.28125 | 1.0000 | 0.8750 | IN |
| 165-0320 | FA-14210-12 BENT TIP | RWMA Class 1 - C15000 | 4RW | A | 2.62500 | 0.50000 | 0.188 | 2.6250 | 0.28125 | 1.1250 | 0.8750 | IN |
| 165-0360 | FA-14212-8 BENT TIP | RWMA Class 1 - C15000 | 4RW | A | 2.75000 | 0.50000 | 0.188 | 2.7500 | 0.28125 | 1.0000 | 1.0000 | IN |
| 165-0460 | FA-14214-20 BENT TIP | RWMA Class 1 - C15000 | 4RW | A | 2.87500 | 0.50000 | 0.188 | 1.2500 | 0.28125 | 1.1250 | 0.8750 | IN |
| 165-0520 | FA-1430-16 BENT TIP | RWMA Class 1 - C15000 | 4RW | A | 3.00000 | 0.50000 | 0.188 | 1.0000 | 0.28125 | 1.0000 | 0.8750 | IN |
| 165-1160 | FA-1526-6 BENT TIP | RWMA Class 1 - C15000 | 5RW | A | 2.37500 | 0.62500 | 0.25 | 0.3750 | 0.28125 | 0.8750 | 1.0000 | IN |
| 165-1240 | FA-1528-8 BENT TIP | RWMA Class 1 - C15000 | 5RW | A | 2.50000 | 0.62500 | 0.25 | 0.5000 | 0.28125 | 0.8750 | 0.8750 | IN |
| 165-1240-T | FA-1528-8-T BENT TIP | RWMA Class 1 - C15000 | 5RW | A | 2.50000 | 0.62500 | 0.25 | 0.5000 | 0.28125 | 0.8750 | 0.8750 | IN |
| 165-1360 | FA-15212-8 BENT TIP | RWMA Class 1 - C15000 | 5RW | A | 2.75000 | 0.62500 | 0.25 | 0.5000 | 0.28125 | 0.8750 | 1.0000 | IN |
| 165-1400 | FA-15212-16 BENT TIP | RWMA Class 1 - C15000 | 5RW | A | 2.75000 | 0.62500 | 0.25 | 1.0000 | 0.28125 | 0.8750 | 0.8750 | IN |
| 165-1400-T | FA-15212-16-T BENT TIP | RWMA Class 1 - C15000 | 5RW | A | 2.75000 | 0.62500 | 0.25 | 1.0000 | 0.28125 | 0.8750 | 0.8750 | IN |
| 165-1460 | FA-15214-20 BENT TIP | RWMA Class 1 - C15000 | 5RW | A | 2.87500 | 0.62500 | 0.25 | 1.2500 | 0.28125 | 0.7500 | 1.0000 | IN |
| 165-1460-T | FA-15214-20 BENT TIP | RWMA Class 1 - C15000 | 5RW | A | 2.87500 | 0.62500 | 0.25 | 1.2500 | 0.28125 | 0.7500 | 1.0000 | IN |
| 165-1480 | FA-1530-8 BENT TIP | RWMA Class 1 - C15000 | 5RW | A | 3.00000 | 0.62500 | 0.25 | 0.5000 | 0.28125 | 1.0000 | 0.8750 | IN |
| 165-1560 | FA-1534-16 BENT TIP | RWMA Class 1 - C15000 | 5RW | A | 3.25000 | 0.62500 | 0.25 | 1.0000 | 0.28125 | 1.0000 | 1.0000 | IN |
| 165-1580 | FA-1536-20 BENT TIP | RWMA Class 1 - C15000 | 5RW | A | 3.37500 | 0.62500 | 0.25 | 1.2500 | 0.28125 | 0.8750 | 0.8750 | IN |
| 165-1600 | FA-1538-8 BENT TIP | RWMA Class 1 - C15000 | 5RW | A | 3.50000 | 0.62500 | 0.25 | 0.5000 | 0.28125 | 1.1500 | 1.3500 | IN |
| 165-1600-T | FA-1538-8-T BENT TIP | RWMA Class 1 - C15000 | 5RW | A | 3.50000 | 0.62500 | 0.25 | 0.5000 | 0.28125 | 1.1500 | 1.3500 | IN |
| 165-2200 | FD-1426-20 BENT TIP | RWMA Class 1 - C15000 | 4RW | D | 2.37500 | 0.50000 | 0.188 | 1.2500 | 0.28125 | 1.0000 | 0.7500 | IN |
| 165-2200-T | FD-1426-20-T BENT TIP | RWMA Class 1 - C15000 | 4RW | D | 2.37500 | 0.50000 | 0.188 | 1.2500 | 0.28125 | 1.0000 | 0.7500 | IN |
| 165-2280 | FD-1428-16 BENT TIP | RWMA Class 1 - C15000 | 4RW | D | 2.50000 | 0.50000 | 0.188 | 1.2500 | 0.28125 | 1.0000 | 0.8750 | IN |
| 165-3140 | FD-1524-20 BENT TIP | RWMA Class 3 - C18000 | 5RW | D | 2.25000 | 0.62500 | 0.25 | 1.2500 | 0.37500 | 1.0000 | 0.8750 | IN |
| 165-3180 | FD-1526-12 BENT TIP | RWMA Class 3 - C18000 | 5RW | D | 2.37500 | 0.62500 | 0.25 | 0.7500 | 0.37500 | 0.8750 | 0.8750 | IN |
| 165-3180-T | FD-1526-12-T BENT TIP | RWMA Class 3 - C18000 | 5RW | D | 2.37500 | 0.62500 | 0.25 | 0.7500 | 0.37500 | 0.8750 | 0.8750 | IN |
| 165-3360 | FD-15212-8 BENT TIP | RWMA Class 3 - C18000 | 5RW | D | 2.75000 | 0.62500 | 0.25 | 0.5000 | 0.37500 | 1.0000 | 1.0000 | IN |
| 165-3400 | FD-15212-16 BENT TIP | RWMA Class 3 - C18000 | 5RW | D | 2.75000 | 0.62500 | 0.25 | 1.0000 | 0.37500 | 1.0000 | 1.0000 | IN |
| 165-3570 | FD-1536-6 BENT TIP | RWMA Class 3 - C18000 | 5RW | D | 3.37500 | 0.62500 | 0.25 | 0.3750 | 0.37500 | 1.3500 | 1.4000 | IN |
| 165-3580 | FD-1536-20 BENT TIP | RWMA Class 3 - C18000 | 5RW | D | 3.37500 | 0.62500 | 0.25 | 1.2500 | 0.37500 | 1.0000 | 1.0000 | IN |
| 167-0060 | FA-2317-8 BENT TIP | RWMA Class 2 - C18200 | 3RW | A | 1.50000 | 0.37500 | 0.125 | 0.4375 | | 0.6000 | 0.6000 | IN |
| 167-0100 | FA-2424-8 BENT TIP | RWMA Class 2 - C18200 | 4RW | A | 2.25000 | 0.50000 | 0.188 | 0.5000 | 0.28125 | 1.0000 | 0.8750 | IN |
| 167-0100-T | FA-2424-8-T BENT TIP | RWMA Class 2 - C18200 | 4RW | A | 2.25000 | 0.50000 | 0.188 | 0.5000 | 0.28125 | 1.0000 | 0.8750 | IN |
| 167-0120 | FA-2424-12 BENT TIP | RWMA Class 2 - C18200 | 4RW | A | 2.25000 | 0.50000 | 0.188 | 0.7500 | 0.28125 | 1.0000 | 0.8750 | IN |
| 167-0120-T | FA-2424-12-T BENT TIP | RWMA Class 2 - C18200 | 4RW | A | 2.25000 | 0.50000 | 0.188 | 0.7500 | 0.28125 | 1.0000 | 0.8750 | IN |
| 167-0160 | FA-2426-6 BENT TIP | RWMA Class 2 - C18200 | 4RW | A | 2.37500 | 0.50000 | 0.188 | 0.3750 | 0.28125 | 1.0000 | 0.8000 | IN |
| 167-0180 | FA-2426-12 BENT TIP | RWMA Class 2 - C18200 | 4RW | A | 2.37500 | 0.50000 | 0.188 | 0.7500 | 0.28125 | 1.1250 | 0.7500 | IN |
| 167-0180-T | FA-2426-12-T BENT TIP | RWMA Class 2 - C18200 | 4RW | A | 2.37500 | 0.50000 | 0.188 | 0.7500 | 0.28125 | 1.1250 | 0.7500 | IN |
| 167-0200 | FA-2426-20 BENT TIP | RWMA Class 2 - C18200 | 4RW | A | 2.37500 | 0.50000 | 0.188 | 1.2500 | 0.28125 | 0.8750 | 0.7500 | IN |
| 167-0200-T | FA-2426-20-T BENT TIP | RWMA Class 2 - C18200 | 4RW | A | 2.37500 | 0.50000 | 0.188 | 1.2500 | 0.28125 | 0.8750 | 0.7500 | IN |
| 167-0240 | FA-2428-8 BENT TIP | RWMA Class 2 - C18200 | 4RW | A | 2.50000 | 0.50000 | 0.188 | 0.5000 | 0.28125 | 1.0000 | 0.8750 | IN |
| 167-0240-T | FA-2428-8-T BENT TIP | RWMA Class 2 - C18200 | 4RW | A | 2.50000 | 0.50000 | 0.188 | 0.5000 | 0.28125 | 1.0000 | 0.8750 | IN |
| 167-0280 | FA-2428-16 BENT TIP | RWMA Class 2 - C18200 | 4RW | A | 2.50000 | 0.50000 | 0.188 | 1.0000 | 0.28125 | 1.0000 | 0.8750 | IN |
| 167-0280-T | FA-2428-16-T BENT TIP | RWMA Class 2 - C18200 | 4RW | A | 2.50000 | 0.50000 | 0.188 | 1.0000 | 0.28125 | 1.0000 | 0.8750 | IN |
| 167-0320 | FA-24210-12 BENT TIP | RWMA Class 2 - C18200 | 4RW | A | 2.62500 | 0.50000 | 0.188 | 0.5000 | 0.28125 | 1.1250 | 0.8750 | IN |
| 167-0320-T | FA-24210-12-T BENT TIP | RWMA Class 2 - C18200 | 4RW | A | 2.62500 | 0.50000 | 0.188 | 0.5000 | 0.28125 | 1.1250 | 0.8750 | IN |
| 167-0360 | FA-24212-8 BENT TIP | RWMA Class 2 - C18200 | 4RW | A | 2.75000 | 0.50000 | 0.188 | 0.5000 | 0.28125 | 1.0000 | 1.0000 | IN |
| 167-0360-T | FA-24212-8-T BENT TIP | RWMA Class 2 - C18200 | 4RW | A | 2.75000 | 0.50000 | 0.188 | 0.5000 | 0.28125 | 1.0000 | 1.0000 | IN |
| 167-0400 | FA-24212-16 BENT TIP | RWMA Class 2 - C18200 | 4RW | A | 2.75000 | 0.50000 | 0.188 | 1.0000 | 0.28125 | 1.1250 | 0.8750 | IN |
| 167-0400-T | FA-24212-16-T BENT TIP | RWMA Class 2 - C18200 | 4RW | A | 2.75000 | 0.50000 | 0.188 | 1.0000 | 0.28125 | 1.1250 | 0.8750 | IN |
| 167-0420 | FA-24212-20 BENT TIP | RWMA Class 2 - C18200 | 4RW | A | 2.75000 | 0.50000 | 0.188 | 1.2500 | 0.28125 | 1.1250 | 0.8750 | IN |
| 167-0420-T | FA-24212-20-T BENT TIP | RWMA Class 2 - C18200 | 4RW | A | 2.75000 | 0.50000 | 0.188 | 1.2500 | 0.28125 | 1.1250 | 0.8750 | IN |
| 167-0430 | FA-24214-12 BENT TIP | RWMA Class 2 - C18200 | 4RW | A | 2.87500 | 0.50000 | 0.188 | 0.7500 | 0.28125 | 1.1250 | 0.7500 | IN |
| 167-0460 | FA-24214-20 BENT TIP | RWMA Class 2 - C18200 | 4RW | A | 2.87500 | 0.50000 | 0.188 | 1.2500 | 0.28125 | 1.1250 | 0.8750 | IN |
| 167-0460-T | FA-24214-20-T BENT TIP | RWMA Class 2 - C18200 | 4RW | A | 2.87500 | 0.50000 | 0.188 | 1.2500 | 0.28125 | 1.1250 | 0.8750 | IN |
| 167-0520 | FA-2430-16 BENT TIP | RWMA Class 2 - C18200 | 4RW | A | 3.00000 | 0.50000 | 0.188 | 1.0000 | 0.28125 | 1.1250 | 0.8750 | IN |
| 167-0520-T | FA-2430-16-T BENT TIP | RWMA Class 2 - C18200 | 4RW | A | 3.00000 | 0.50000 | 0.188 | 1.0000 | 0.28125 | 1.1250 | 0.8750 | IN |
| 167-0580 | FA-2436-20 BENT TIP | RWMA Class 2 - C18200 | 4RW | A | 3.37500 | 0.50000 | 0.188 | 1.2500 | 0.28125 | 1.1250 | 1.0000 | IN |
| 167-0580-T | FA-2436-20-T BENT TIP | RWMA Class 2 - C18200 | 4RW | A | 3.37500 | 0.50000 | 0.188 | 1.2500 | 0.28125 | 1.1250 | 1.0000 | IN |
| 167-0620 | FA-2438-16 BENT TIP | RWMA Class 2 - C18200 | 4RW | A | 3.50000 | 0.50000 | 0.188 | 1.0000 | 0.28125 | 1.0000 | 1.0000 | IN |
| 167-0620-T | FA-2438-16-T BENT TIP | RWMA Class 2 - C18200 | 4RW | A | 3.50000 | 0.50000 | 0.188 | 1.0000 | 0.28125 | 1.0000 | 1.0000 | IN |
| 167-1160 | FA-2526-6 BENT TIP | RWMA Class 2 - C18200 | 4RW | A | 2.37500 | 0.62500 | 0.25 | 0.3750 | 0.37500 | 0.8750 | 1.0000 | IN |
| 167-1180 | FA-2526-12 BENT TIP | RWMA Class 2 - C18200 | 5RW | A | 2.37500 | 0.62500 | 0.25 | 0.7500 | 0.37500 | 0.8750 | 1.0000 | IN |
| 167-1240 | FA-2528-8 BENT TIP | RWMA Class 2 - C18200 | 5RW | A | 2.50000 | 0.62500 | 0.25 | 0.5000 | 0.37500 | 0.8750 | 1.0000 | IN |
| 167-1240-T | FA-2528-8-T BENT TIP | RWMA Class 2 - C18200 | 5RW | A | 2.50000 | 0.62500 | 0.25 | 0.5000 | 0.37500 | 0.8750 | 1.0000 | IN |
| 167-1280 | FA-2528-16 BENT TIP | RWMA Class 2 - C18200 | 5RW | A | 2.50000 | 0.62500 | 0.25 | 1.0000 | 0.37500 | 0.8750 | 1.0000 | IN |
| 167-1280-T | FA-2528-16-T BENT TIP | RWMA Class 2 - C18200 | 5RW | A | 2.50000 | 0.62500 | 0.25 | 1.0000 | 0.37500 | 0.8750 | 1.0000 | IN |
| 167-1360 | FA-25212-8 BENT TIP | RWMA Class 2 - C18200 | 5RW | A | 2.75000 | 0.62500 | 0.25 | 0.5000 | 0.37500 | 0.8750 | 1.0000 | IN |
| 167-1380 | FA-25212-12 BENT TIP | RWMA Class 2 - C18200 | 5RW | A | 2.75000 | 0.62500 | 0.25 | 0.7500 | 0.37500 | 0.8000 | 1.0000 | IN |
| 167-1400 | FA-25212-16 BENT TIP | RWMA Class 2 - C18200 | 5RW | A | 2.75000 | 0.62500 | 0.25 | 1.0000 | 0.37500 | 0.8750 | 1.0000 | IN |
| 167-1400-T | FA-25212-16-T BENT TIP | RWMA Class 2 - C18200 | 5RW | A | 2.75000 | 0.62500 | 0.25 | 1.0000 | 0.37500 | 0.8750 | 1.0000 | IN |
| 167-1440 | FA-25214-16 BENT TIP | RWMA Class 2 - C18200 | 5RW | A | 2.87500 | 0.62500 | 0.25 | 1.0000 | 0.37500 | 0.8750 | 1.0000 | IN |
| 167-1440-T | FA-25214-16-T BENT TIP | RWMA Class 2 - C18200 | 5RW | A | 2.87500 | 0.62500 | 0.25 | 1.0000 | 0.37500 | 0.8750 | 1.0000 | IN |
| 167-1460 | FA-25214-20 BENT TIP | RWMA Class 2 - C18200 | 5RW | A | 2.87500 | 0.62500 | 0.25 | 1.2500 | 0.37500 | 0.8000 | 1.0000 | IN |
| 167-1480 | FA-2530-8 BENT TIP | RWMA Class 2 - C18200 | 5RW | A | 3.00000 | 0.62500 | 0.25 | 0.5000 | 0.37500 | 1.0000 | 1.0000 | IN |
| 167-1500 | FA-2530-12 BENT TIP | RWMA Class 2 - C18200 | 5RW | A | 3.00000 | 0.62500 | 0.25 | 0.7500 | 0.37500 | 0.8750 | 1.0000 | IN |
| 167-1500-T | FA-2530-12-T BENT TIP | RWMA Class 2 - C18200 | 5RW | A | 3.00000 | 0.62500 | 0.25 | 0.7500 | 0.37500 | 0.8750 | 1.0000 | IN |
| 167-1540 | FA-2530-28 BENT TIP | RWMA Class 2 - C18200 | 5RW | A | 3.00000 | 0.62500 | 0.25 | 1.7500 | 0.37500 | 1.1250 | 1.0000 | IN |
| 167-1540-T | FA-2530-28-T BENT TIP | RWMA Class 2 - C18200 | 5RW | A | 3.00000 | 0.62500 | 0.25 | 1.7500 | 0.37500 | 1.1250 | 1.0000 | IN |
| 167-1560 | FA-2534-16 BENT TIP | RWMA Class 2 - C18200 | 5RW | A | 3.25000 | 0.62500 | 0.25 | 1.0000 | 0.37500 | 1.0000 | 1.0000 | IN |
| 167-1560-T | FA-2534-16-T BENT TIP | RWMA Class 2 - C18200 | 5RW | A | 3.25000 | 0.62500 | 0.25 | 1.0000 | 0.37500 | 1.0000 | 1.0000 | IN |
| 167-1580 | FA-2536-20 BENT TIP | RWMA Class 2 - C18200 | 5RW | A | 3.37500 | 0.62500 | 0.25 | 1.2500 | 0.37500 | | | IN |
| 167-1580-T | FA-2536-20-T BENT TIP | RWMA Class 2 - C18200 | 5RW | A | 3.37500 | 0.62500 | 0.25 | 1.2500 | 0.37500 | | | IN |
| 167-1600 | FA-2538-8 BENT TIP | RWMA Class 2 - C18200 | 5RW | A | 3.50000 | 0.62500 | 0.25 | 0.5000 | 0.37500 | 1.1250 | 1.4000 | IN |
| 167-1620 | FA-2538-16 BENT TIP | RWMA Class 2 - C18200 | 5RW | A | 3.50000 | 0.62500 | 0.25 | 1.0000 | 0.37500 | 1.3000 | 1.0000 | IN |
| 167-1620-T | FA-2538-16-T BENT TIP | RWMA Class 2 - C18200 | 5RW | A | 3.50000 | 0.62500 | 0.25 | 1.0000 | 0.37500 | 1.3000 | 1.0000 | IN |
| 167-2080 | FD-2423-16 BENT TIP | RWMA Class 2 - C18200 | 4RW | D | 2.18750 | 0.50000 | 0.188 | 1.0000 | 0.28125 | 1.0000 | 0.7500 | IN |
| 167-2200 | FD-2426-20 BENT TIP | RWMA Class 2 - C18200 | 4RW | D | 2.37500 | 0.50000 | 0.188 | 1.2500 | 0.28125 | 1.0000 | 0.8750 | IN |
| 167-2200-T | FD-2426-20-T BENT TIP | RWMA Class 2 - C18200 | 4RW | D | 2.37500 | 0.50000 | 0.188 | 1.2500 | 0.28125 | 1.0000 | 0.8750 | IN |
| 167-2280 | FD-2428-16 BENT TIP | RWMA Class 2 - C18200 | 4RW | D | 2.50000 | 0.50000 | 0.188 | 1.0000 | 0.28125 | 1.0000 | 0.8750 | IN |
| 167-2280-T | FD-2428-16-T BENT TIP | RWMA Class 2 - C18200 | 4RW | D | 2.50000 | 0.50000 | 0.188 | 1.0000 | 0.28125 | 1.0000 | 0.8750 | IN |
| 167-2320 | FD-24210-12 BENT TIP | RWMA Class 2 - C18200 | 4RW | D | 2.62500 | 0.50000 | 0.188 | 0.7500 | 0.28125 | 1.0000 | 1.0000 | IN |
| 167-2320-T | FD-24210-12-T BENT TIP | RWMA Class 2 - C18200 | 4RW | D | 2.62500 | 0.50000 | 0.188 | 0.7500 | 0.28125 | 1.0000 | 1.0000 | IN |
| 167-2360 | FD-2421-8 BENT TIP | RWMA Class 2 - C18200 | 4RW | D | 2.75000 | 0.50000 | 0.188 | 0.5000 | 0.28125 | 1.2500 | 1.1250 | IN |
| 167-3100 | FD-2524-8 BENT TIP | RWMA Class 2 - C18200 | 5RW | D | 2.25000 | 0.62500 | 0.250 | 0.5000 | 0.37500 | 1.0000 | 0.8750 | IN |
| 167-3140 | FD-2524-20 BENT TIP | RWMA Class 2 - C18200 | 4RW | D | 2.25000 | 0.50000 | 0.188 | 1.2500 | 0.28125 | 0.7500 | 0.7500 | IN |
| 167-3140-T | FD-2524-20-T BENT TIP | RWMA Class 2 - C18200 | 4RW | D | 2.25000 | 0.50000 | 0.188 | 1.2500 | 0.28125 | 0.7500 | 0.7500 | IN |
| 167-3160 | FD-2526-6 BENT TIP | RWMA Class 2 - C18200 | 4RW | D | 2.37500 | 0.50000 | 0.188 | 0.3750 | 0.28125 | 1.0000 | 1.0000 | IN |
| 167-3180 | FD-2526-12 BENT TIP | RWMA Class 2 - C18200 | 4RW | D | 2.37500 | 0.50000 | 0.188 | 0.7500 | 0.28125 | 0.8750 | 0.8750 | IN |
| 167-3360 | FD-25212-8 BENT TIP | RWMA Class 2 - C18200 | 5RW | D | 2.75000 | 0.50000 | 0.25 | 0.5000 | 0.28125 | 1.0000 | 1.0000 | IN |
| 167-3400 | FD-25212-16 BENT TIP | RWMA Class 2 - C18200 | 5RW | D | 2.75000 | 0.62500 | 0.25 | 1.0000 | 0.28125 | 1.0000 | 1.0000 | IN |
| 167-3400-T | FD-25212-16-T BENT TIP | RWMA Class 2 - C18200 | 5RW | D | 2.75000 | 0.50000 | 0.25 | 1.0000 | 0.28125 | 1.0000 | 1.0000 | IN |
| 167-3480 | FD-2530-8 BENT TIP | RWMA Class 2 - C18200 | 5RW | D | 3.00000 | 0.50000 | 0.25 | 0.5000 | 0.28125 | 1.1250 | 1.2500 | IN |
| 167-3520 | FD-2530-16 BENT TIP | RWMA Class 2 - C18200 | 5RW | D | 3.00000 | 0.50000 | 0.25 | 1.0000 | 0.28125 | 1.0000 | 1.0000 | IN |
| 167-3580 | FD-2536-20 BENT TIP | RWMA Class 2 - C18200 | 5RW | D | 3.37500 | 0.50000 | 0.25 | 1.2500 | 0.28125 | 1.0000 | 1.0000 | IN |
| 167-3580-T | FD-2536-20-T BENT TIP | RWMA Class 2 - C18200 | 5RW | D | 3.37500 | 0.50000 | 0.25 | 1.2500 | 0.28125 | 1.0000 | 1.0000 | IN |
| 167-3620 | FD-2538-16 BENT TIP | RWMA Class 2 - C18200 | 5RW | D | 3.50000 | 0.50000 | 0.25 | 1.0000 | 0.28125 | 1.0000 | 1.0000 | IN |